Gift ideas under £20 for Father's Day 2017
Father's Day 2017 in the UK is less than two weeks away (Sunday 18 June). If you're anything like us, you've probably forgotten about this up until now. And if you're on a tight budget, you're probably wondering what you can buy for dear old dad.
Well, you don't need to worry – we've put together some of the best budget gift ideas for your dad. Here are a few things you can pick up this Father's Day 2017* for less than £20.
Father's Day 2017 picks
If your dad never turns up on time, it might be a good idea to get him a watch for Father's Day. Make sure your dad stays looking stylish with this practical Black Stitch Textured Strap Watch from Primark (£8). It's practical and will go with almost any outfit, meaning your dad will get plenty of use out of it.
This Visage Electric Shaver from Aldi (£17.99) is available from Thursday 8 June and makes a thoughtful gift idea. It features a detachable head for easy cleaning and comes with a rechargeable battery. It also comes with a cleaning brush and a smart storage pouch so your dad can keep it in perfect condition.
Come the weekend, does your dad like to look casual and laidback? Then he'll no doubt love this Check Shirt and T-Shirt Set from Asda (£16). The muted blue shades mean it's easy to wear with a pair of jeans. And as the set is two separate items of clothing, your dad can either layer up or just rock the t-shirt as he feels.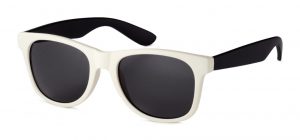 It might not feel like it when the weather's grey and rainy, but summer's just around the corner. With this in mind, why not treat your dad to these Natural White Sunglasses from H&M (£6.99)? They'll help keep your dad on trend this summer as well as protecting his eyes from the sun's rays. And for the price, they really are a bargain.
Has your dad got a bit of a sweet tooth? This Continental Nougat Delight from Thorntons (£10) will definitely be a winner. Featuring a nougat ring filled with an assortment of dark, milk and white chocolates, it's bound to include dad's favourite. Just make sure you're there when he opens it – he might be tempted to share!
If your dad is something of a movie fan, why not pick up this DVD of Rogue One: A Star Wars Story from Amazon (£8). It was a smash hit in cinemas last year so if your dad is a Star Wars fan, he'll love having this film to watch from the comfort of his sofa. You can only get free delivery on this if you're spending over £20, so it might be worth getting it as part of a bigger online shop.
Have you got any other budget gift ideas for this Father's Day 2017? Let us know what you're buying for your Dad on our Facebook and Twitter pages.
*Prices correct at time of writing