Dimensions of Debt
30th March 2017, 9am – 4pm, Macdonald Hotel and Spa, London Rd, Manchester M1 2PG
Following the success of last year's event, Harrington Brooks have great pleasure in inviting you to our 2017 Creditor Conference.
This is an opportunity to engage with industry figures across the sector while looking to learn, challenge and debate to create better outcomes. Following recent news that household debt is at an all-time high, the conference is a perfect opportunity to discuss topics and matters that are relevant within the industry.

Yael Selfin, Director and Chief Economist, KPMG UK
Key note speaker
Yael is Chief Economist at KPMG and heads KPMG's macroeconomics consulting business. Her team carries out research on the impact major issues are likely to have on the economy, including Brexit and other geopolitical events and trends.
Her team also combines econometrics and similar analytical tools with economic scenarios to advise clients on their future strategy, projecting revenue and costs, and comparing potential prospects across different geographical locations and costumer profiles. Yael is a member of the Bretton Woods Committee and is a regular media commentator on economic issues in the business media.

Sara Williams, Debt Camel
Sara is the author behind popular website Debt Camel, which provides advice and commentary on up-to-date debt matters.
Her approach lends itself to making debt advice easy, accessible and relevant to visitors looking for information on how to manage their debts.
As well as managing Debt Camel, Sara still spends time working for Citizens Advice in a voluntary capacity.
Prior to Debt Camel Sara worked at LCH-Clearnet and is an alumnus of Oxford University.
Nick Pearson, Debt Counsellors Charitable Trust
Nick is the Chief Executive Officer of The Debt Counsellors Charitable Trust and was appointed to set up the charity in March 2014.
Previously, Nick was Director of External Affairs at Paymex Group and National Debt Advice Coordinator at the charity AdviceUK.
Prior to this, Nick was Head of the Money Advice Unit at Citizens Advice and one of the original members of the FSA Consumer Panel.
He was a member of the HM Treasury Financial Inclusion Taskforce, the Insolvency Service IVA Standing Committee, and a Director and Board member of the United Utilities Trust Fund.
James Jones, Experian
James is currently Head of Consumer Affairs at Experian. If the face or name looks familiar, it's because James is a regular contributor on several media outlets in the UK.
On the web, his online presence provides a stellar collection of common answers to everyday credit score queries through the 'Ask James Advice Column'.
With over 20 years' experience behind him, James has a mandate to educate consumers about Experian's role as a credit reference agency.
From a trade perspective, James sits on numerous industry advisory groups and forums, such as the Money Advice Liaison Group.
Engage Services
Gary Jones, Group Enforcement Director, Civil – Responsible for the general operations as well as having a wider group role within Marston, Gary has worked in the collections industry for over thirty years. He is on the board of the Credit Services Association and responsible for launching industry standards for customer tracing via the Trace Code of Conduct.
Michael Wolfenden, Commercial Director – Michael has vast amount of knowledge and experience within the specialist field arena and works with Engage's many clients to deliver excellence and innovation.
Karl Grimes, Assistant Head Teacher and Head of Sixth Form – Newall Green High School, Wythenshawe
Newall Green operates a number of Profession Pathways, which in partnership with local businesses and apprentice providers, provides students with a clear route into employment or further training. Each Pathway includes professional development, skills for employability, sector/work experience and a health and well-being programme.
Whilst having high levels of disadvantaged students and families that are affected by debt, with some second and third generation unemployment, the academy is winning through. Karl puts a real life slant on how these aspects impact on students, their aspirations and future progressions and how the academy staff are working with students and their families to tackle these issues.
Dan Chapellow, West Midlands Police
There are many different forms of financial abuse. These can involve making a partner feel powerless, vulnerable or inferior or if a partner attempts to restrict independence and takes control within a relationship.
Dan Chapellow from West Midlands Police will be sharing his knowledge of financial abuse with attendees.
Amy Rowe and Michael Taggart are ex-journalists, turned digital PR experts, who both have real life experience of debt issues which they put to good use whilst blogging for Mouthy Money.
"We're a money blog with a beating heart and a big mouth. We're made of real people talking simultaneously every single day about real dreams, successes and failures"
| | |
| --- | --- |
| 09:30 | Darryl Matthews – Harrington Brooks – "Welcome and housekeeping" |
| 09:40 | Matthew Cheetham – Harrington Brooks – "Introduction" |
| 09:45 | Key Note Speaker: Yael Selfin – KPMG – "Economic update" |
| 10:30 | James Jones – Experian plus Q&A – "Consumer finances today and tomorrow" |
| 11:00 | Break |
| 11:30 | Michael Wolfenden & Gary Jones – Engage plus Q&A – "Customer engagement in the field" |
| 12:00 | Nick Pearson – Debt Councillors Charitable Trust plus Q&A -"The key issues affecting debt advice providers & their clients" |
| 12:30 | Sara Williams – Debt Camel and Table Discussions – "Interest only mortgages" |
13:15
Lunch
14:00
Darryl Matthews – Harrington Brooks "Welcome Back"
14:05
DC Dan Chappelow – West Midlands Police – "Vulnerable adult awareness"
14:30
Karl Grimes – Newhall Green High School – "Inspire to Aspire. What are you doing to shape our future workforce?"
15:00
Amy Rowe – Mouthy Money – "The story of everyday debt and how it comes to pass"
15:10
Michael Taggart – Mouthy Money – "My life as a 110% subprime mortgage holder"
15:20
Panel discussion, chaired by Ralph Jackson – Lansons
Mouthy Money / Karl Grimes / Dan Chappellow / Mike Kane MP
16:00
 Matthew Cheetham – Harrington Brooks "Summary and Close"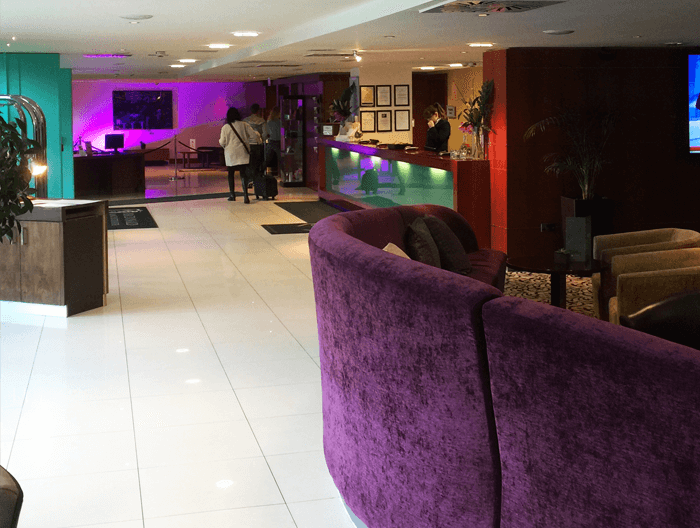 Macdonald Hotel and Spa, London Rd, Manchester M1 2PG
1 minute walk from Piccadilly Station and 10.5 miles or 20 minutes from Manchester Airport
If travelling by car please use Sat Nav postcode M1 2AR which will direct you the hotel's car park on Berry Street
Parking is available at a rate of £20 for 24 hours on a first come first served basis
Other parking is available at National Car Parks Ltd, Travis St, Manchester, M1 2NG
Fully accessible to wheel chair users
Guide dogs welcome
Dedicated conference suite
Complimentary Wifi with extra bandwidth
There is a non-smoking policy in and around the hotel
Lunch will be available for all delegates – if you have any special dietary requirements please advise
The Harrington Brooks Connect 2017 conference will operate under Chatham House Rule
Please pose your questions and comments via the Twitter feed #HBCC17